THE SURF REPORT
Sun. Aug. 30, 2015 |
7 a.m.
VIDEO
GENERAL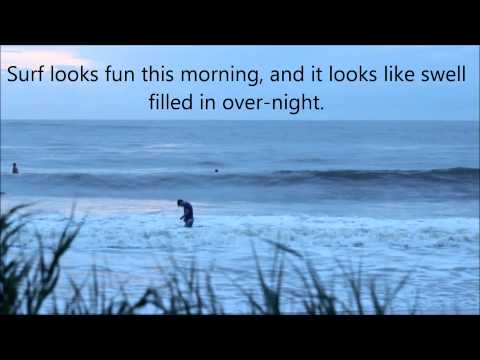 Good morning this is Bates with your Ocean Surf Shop morning surf report and forecast for your Sunday, Aug. 30 at 7 a.m.
Waves at The Washout this morning are waist to chest high.
Winds are west/north-west at 5 knots, and surf is bumpy, but clean.
Surf looks fun this morning, and it looks like swell filled in over-night.
We have still have astronomically high tides at the beach.
High tide will be at 8:40 a.m., and low tide will be at 2:53 p.m. The next high tide at 9:16 p.m.
The Edisto Buoy is reading 3.6 ft. at 11 sec. in long-period south-east swells.
We see ground swell today compliments of what was Tropical Storm Erika. Wind goes east this afternoon, and could add some chop to ground-swell as the waves build tonight on the incoming tide. Winds switch south tonight, and should blow some fun swell into the beach for Monday. The remnants of Erika could still re-curve as a depression and cause wind swell for our beaches during the middle of next week, but Erika is moody and so far is unpredictable, so she is one babe that's hard to court.
The National Weather Service Marine Weather Forecast calls for: "A STRONG UPPER LEVEL DISTURBANCE WILL LIFT NORTH THROUGH GEORGIA AND THE CAROLINAS THROUGH TONIGHT. ON THE PERIPHERY OF ATLANTIC HIGH PRESSURE…A WEAK TROUGH OF LOW PRESSURE WILL MEANDER OVER THE SOUTHEAST MOST OF THIS WEEK. LATE THIS WEEK INTO NEXT WEEKEND…LOW PRESSURE WILL DEVELOP OVER THE ATLANTIC WHILE WEAK INLAND HIGH PRESSURE EXPANDS SOUTH AND EAST INTO THE REGION.
Water temperature is 84*.
Its 74* with cloudy skies and rain this morning. Expect a high of 81* with mostly cloudy skies and rain all day today.
Sunset is at 7:48 p.m. (last light around 8:05 p.m.) Sunrise is at 6:53 a.m. (first light around 6:38 a.m.)
Thanks for checking Ocean Surf Shop.
Waves » Waist to chest.
SURF CONDITIONS » Clean. Bump/chop, later
FUN FACTOR »
WATER TEMPERATURE » 84°
CURRENT NOAA FOLLY BUOY READINGS »
SHARE THIS REPORT »
WIND » West at 5, going east at 10.
TIDES » L: 2:53 p.m. / H: 9:16 p.m.
WEATHER » Its 74* with cloudy skies and rain this morning. Expect a high of 81* with mostly cloudy skies and rain all day today.
DANGERS » Jelly fish, crowded surf.
TRAFFIC » Busy with surfers.
PARKING » Lots of surfers at Washout/Pier.
WEEKLY WAVE FORECAST
[ 08/28/15 at 11:13 AM ]
Erika. Way hotter than Danny

As of Friday, Aug. 28, this is the NOAA marine weather forecast for North Fla.'s water on
Our NOAA National Weather Service Marine Weather Forecast calls for…" A STATIONARY FRONT WILL DISSIPATE NEAR THE COAST TODAY. ATLANTIC HIGH PRESSURE WILL REMAIN IN PLACE INTO EARLY NEXT WEEK. TROPICAL CYCLONE ERIKA COULD IMPACT THE SOUTHEAST U.S. BY THE MIDDLE OF NEXT WEEK. REFER TO THE LATEST ADVISORY ON ERIKA ISSUED BY THE NATIONAL HURRICANE CENTER."
As of Friday afternoon (Aug. 28), Erika is looking to take a more westerly track up into Fla. at which point it will re-curve and roll north up into the Fla.  Panhandle. This track is subject to change, so keep an eye on the National Hurricane Center or Weather Underground for reliable tracking maps. It is really hard to tell the track it will take, but there is a lot of southerly wind (on-shore wind) left over from former T.S. Danny still making some rideable swell at Folly this week. Now T.S. Erika that is creating wind north of the Caribbean islands, setting up trade-wind style (on-shore) fetch. Over the weekend (Aug. 28), the waves will continue in the waist to chest high range in bumpy conditions with east winds. Surf builds early afternoon on incoming tides with east winds at 10 knots during the forecast period.  Lookf for waist to chest and bumpy as the day wears on. Low-to-mid tides have been best on this trade-wind swell, and don't be afraid to venture away from the Washout. There is enouh swell that other sand-bars along the east side of the beach have been breaking pretty well.
As of Friday, Aug. 28, this is the NOAA marine weather forecast North Florida FOR Sunday (Aug.) : "EAST WINDS 10 KNOTS. SEAS 5 TO 6 FEET WITH OCCASIONAL SEAS UP TO 8 FEET. INLAND WATERS A LIGHT CHOP. SHOWERS AND THUNDERSTORMS LIKELY IN THE MORNING…THEN SCATTERED SHOWERS AND THUNDERSTORMS IN THE AFTERNOON."
Why look at N. Fla.'s marine weather forecast? All of that is swell coming from the south-east, and I would look for waves to build significantly on Sunday, into Monday morning.
That's a lot of swell according to Friday's marine weather forecast, and we should be looking at chest – and bigger – surf by afternoon Sunday, and into Monday. Our marine weather forecast is calling for 3 to 4 foot seas on Sunday, but I think surf will build bigger. Waves should get choppier mid-week (week of Aug. 31) as Erika get closer to our area, but suffice it to say that we are looking at swell all weekend, and into your work week, with biggest size coming during the early part of your work week. (Aug. 31 – Sept. 1). As size gets bigger, don't be surprised to see the wind pick up.
-Bates Hagood, Ocean Surf Shop